Energy Efficient Glazing Upgrade
Windows and doors installed prior to 2002 will more than likely not have any form of energy saving glass fitted.  'A' rated double glazing and triple glazing have only become standard fit items in the last number of years.
Your windows and doors may still be perfectly serviceable but letting heat escape from your home and costing you money.  Therefore, it may make sense to upgrade the glass in your windows and doors to the latest 'A' rated double glazed or triple glazed units.
These modern glass units have a special Low-Emissivity coating and are filled with Argon gas for better heat retention. Triple glazing also offers excellent acoustic insulation. We can offer a triple glazed unit offering the highest level of insulation in the market with a U value as low as 0.4W/m²K. Double glazed units can offer 1.0 w/m2k.
The thickness of your existing window frames will determine which type of unit you will be able to use.
The main benefits of retrofitting modern heat retaining glazing are:
No need to change your window frames
No redecorating required
Save up to €400 per year on heating bills
Costs up to 50% less than new windows
More efficient than standard double glazing
A warmer, more energy efficient and comfortable home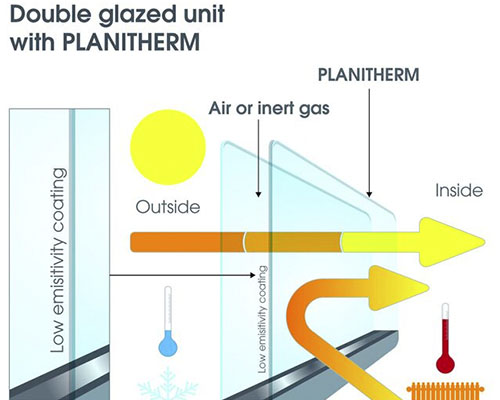 The upgrade process can be completed in 3 easy steps and in as little as one day:
We survey your existing window frames and ensure they are suitable for an upgrade.
Once the new glass units are manufactured we arrange a suitable installation date.
Our installers remove your existing glass, install your new heat retaining glass make good and remove and recycle your old glass units.
Replacement Window
&

Door Parts
If your windows or doors are not working as well as they should, you might just need to replace some of the moving parts.
Our Service Team can call to your home to assess the problem. Sometimes a simple adjustment is all that is necessary but if replacement parts are needed, our Team will advise you.
If you are happy to complete the work yourself, we have a range of replacement parts available in our Online Store.